Posts for: February, 2016
By Bernard J Daly, DMD
February 15, 2016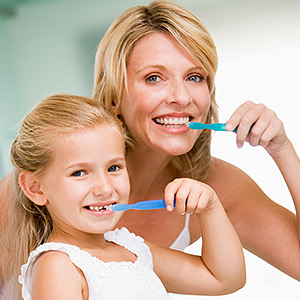 Between infancy and the onset of puberty, your child will grow one set of teeth, lose it and grow another; their jaw structure will also change dramatically. This rapid development sets the course for their oral health later in life.
That's why it's so important to care for their teeth and gums in these early stages through daily hygiene and regular dental visits for disease prevention and treatment. Hygiene is the cornerstone of this care, and should begin in earnest when your child's first tooth erupts in the gums, by first gently cleaning around the newly erupted teeth and gums after each feeding with a water-soaked gauze pad.
As they pass their first birthday you can switch to a small, soft-bristled toothbrush and just a smear of fluoridated toothpaste. Children should begin learning to brush around age 2, first by modeling you as you brush together. They should be adept enough by age 6 to brush on their own, at which time you can introduce flossing. We're more than happy to advise you on technique for both of these hygiene tasks.
Age one is also the time for them to begin regular dental visits for cleanings and checkups. This will help us stay ahead of any developing decay or other issues and perform preventive treatments like dental sealants or fluoride applications. It will also help your child become comfortable with the dental office, which can make it easier for them to develop a long-term habit of regular dental care.
There are also habits you should practice (or avoid) that support good oral health for your child. For example, you shouldn't allow them to sleep with a pacifier or a bottle filled with anything but water. Breast milk and formula contain some forms of sugar that bacteria can feed on; if this becomes too frequent it can result in higher acid levels that soften enamel and lead to decay. You should also take preventive actions to protect your child from teeth-damaging injuries like playing too close to hard furniture.
All these common sense measures support your child's oral development. You can then let Nature takes its course as your child develops a healthy mouth for a lifetime.
If you would like more information on oral care for children, please contact us or schedule an appointment for a consultation. You can also learn more about this topic by reading the Dear Doctor magazine article "Top 10 Oral Health Tips for Children."
By Bernard J Daly, DMD
February 07, 2016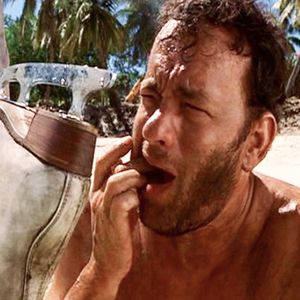 Did you see the move Cast Away starring Tom Hanks? If so, you probably remember the scene where Hanks, stranded on a remote island, knocks out his own abscessed tooth — with an ice skate, no less — to stop the pain. Recently, Dear Doctor TV interviewed Gary Archer, the dental technician who created that special effect and many others.
"They wanted to have an abscess above the tooth with all sorts of gunk and pus and stuff coming out of it," Archer explained. "I met with Tom and I took impressions [of his mouth] and we came up with this wonderful little piece. It just slipped over his own natural teeth." The actor could flick it out with his lower tooth when the time was right during the scene. It ended up looking so real that, as Archer said, "it was not for the easily squeamish!"
That's for sure. But neither is a real abscess, which is an infection that becomes sealed off beneath the gum line. An abscess may result from a trapped piece of food, uncontrolled periodontal (gum) disease, or even an infection deep inside a tooth that has spread to adjacent periodontal tissues. In any case, the condition can cause intense pain due to the pressure that builds up in the pus-filled sac. Prompt treatment is required to relieve the pain, keep the infection from spreading to other areas of the face (or even elsewhere in the body), and prevent tooth loss.
Treatment involves draining the abscess, which usually stops the pain immediately, and then controlling the infection and removing its cause. This may require antibiotics and any of several in-office dental procedures, including gum surgery, a root canal, or a tooth extraction. But if you do have a tooth that can't be saved, we promise we won't remove it with an ice skate!
The best way to prevent an abscess from forming in the first place is to practice conscientious oral hygiene. By brushing your teeth twice each day for two minutes, and flossing at least once a day, you will go a long way towards keeping harmful oral bacteria from thriving in your mouth.
If you have any questions about gum disease or abscesses, please contact us or schedule an appointment for a consultation. You can learn more by reading the Dear Doctor magazine articles "Periodontal (Gum) Abscesses" and "Confusing Tooth Pain."