Posts for: April, 2017
By Bernard J Daly, DMD
April 27, 2017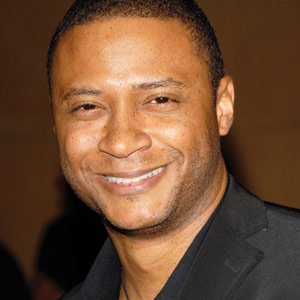 Can you have healthy teeth and still have gum disease? Absolutely! And if you don't believe us, just ask actor David Ramsey. The cast member of TV hits such as Dexter and Arrow said in a recent interview that up to the present day, he has never had a single cavity. Yet at a routine dental visit during his college years, Ramsey's dentist pointed out how easily his gums bled during the exam. This was an early sign of periodontal (gum) disease, the dentist told him.
"I learned that just because you don't have cavities, doesn't mean you don't have periodontal disease," Ramsey said.
Apparently, Ramsey had always been very conscientious about brushing his teeth but he never flossed them.
"This isn't just some strange phenomenon that exists just in my house — a lot of people who brush don't really floss," he noted.
Unfortunately, that's true — and we'd certainly like to change it. So why is flossing so important?
Oral diseases such as tooth decay and periodontal disease often start when dental plaque, a bacteria-laden film that collects on teeth, is allowed to build up. These sticky deposits can harden into a substance called tartar or calculus, which is irritating to the gums and must be removed during a professional teeth cleaning.
Brushing teeth is one way to remove soft plaque, but it is not effective at reaching bacteria or food debris between teeth. That's where flossing comes in. Floss can fit into spaces that your toothbrush never reaches. In fact, if you don't floss, you're leaving about a third to half of your tooth surfaces unclean — and, as David Ramsey found out, that's a path to periodontal disease.
Since then, however, Ramsey has become a meticulous flosser, and he proudly notes that the long-ago dental appointment "was the last we heard of any type of gum disease."
Let that be the same for you! Just remember to brush and floss, eat a good diet low in sugar, and come in to the dental office for regular professional cleanings.
If you would like more information on flossing or periodontal disease, please contact us today to schedule an appointment for a consultation. You can also learn more by reading the Dear Doctor magazine article "Understanding Gum (Periodontal) Disease."
By Bernard J Daly, DMD
April 12, 2017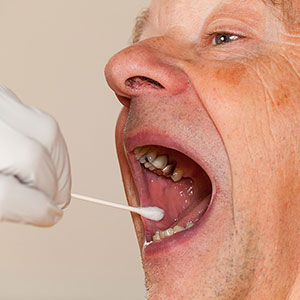 A half million people are diagnosed every year with oral cancer. While other cancers are more prevalent, oral cancer is among the most dangerous with only a fifty percent five-year survival rate.
A major reason for this low rate is because this fast growing cancer is difficult to detect early — diagnosis comes far too often after the disease has already well advanced. In an effort to detect cancer earlier many dentists visually screen for oral abnormalities during checkups, especially patients over fifty, tobacco or heavy alcohol users, patients with a family history of cancer or a medical history of exposure to the sexually transmitted human papilloma virus, HPV-16.
If they detect an abnormality, the dentist often refers the patient to an oral surgeon or other specialist for a possible biopsy. In this procedure the surgeon removes a sample of the abnormal tissue, which is then examined microscopically for cancer cells. A biopsy remains the most effective way to diagnose oral cancer.
Because of the disease's aggressive nature, many dentists lean to the side of caution when referring patients for biopsy. As a result 90% of oral biopsies reveal no cancer. Reducing the number of biopsy referrals is highly desirable, especially for the patient undergoing the procedure. Tissue samples tend to be large to ensure complete detection of any cancer cells. Depending on the size and location of the sample, there may be a risk for loss of function or disfigurement.
A new screening tool using a sample of a patient's saliva could help reduce the number of biopsy referrals. Besides DNA, saliva also contains dormant genes called biomarkers that activate in response to the presence of a specific disease. This particular saliva test identifies those biomarkers for oral cancer if they're present.
A sample with a low score of biomarkers indicates no cancer present (with a statistical confidence of 99%). A medium or high score indicates cancer may be present, but only a biopsy can determine for sure. Using this test, dentists might be able to reduce the number of biopsy referrals and instead be able to employ watchful waiting in certain cases. Because of its simplicity and non-invasiveness, saliva screening could help identify oral cancer earlier.
If you would like more information on early detection and treatment for oral cancer, please contact us or schedule an appointment for a consultation.