Posts for tag: braces
By Bernard J Daly, DMD
January 31, 2018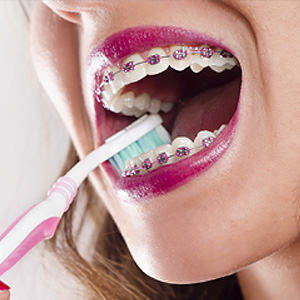 If you or a family member wears braces, you're used to visiting your orthodontist for adjustments and progress monitoring. But it's just as important that you continue regular visits with your family dentist, especially if you begin noticing abnormalities with your teeth and gums.
We need to be on alert for dental health because risks for disease increase during orthodontic treatment. Most oral infections arise from plaque, a thin film of bacteria and food particles on tooth surfaces. You avoid plaque buildup by brushing and flossing at least once a day and undergoing semi-annual office cleanings for any remaining plaque and calculus (hardened plaque deposits).
Braces, however, can complicate hygiene. It's harder to get into areas blocked by the brackets and wires with your brush or floss. This can quickly give rise to gingivitis, a form of periodontal (gum) disease characterized by gum swelling. If not treated, gum disease could eventually cause the gums to detach from the teeth and lead to bone and tooth loss.
The brackets and wires can also irritate the gums and cause them to swell or overgrow, a condition called hyperplasia. This further complicates proper hygiene, which then increases the risk for infection even more.
It takes more time and effort to brush and floss effectively while wearing braces. But it's necessary to prevent these problems. Interproximal brushes (which fit in the spaces between teeth) can help, as well as special floss threaders. You might also consider a water flosser, which use a high-pressured water spray to remove plaque between teeth.
And, don't neglect seeing us on a regular basis. If you notice gum swelling, redness or bleeding, contact us as soon as possible.
If the swelling is due to hyperplasia, treatment could wait until after the braces come off, as long as there doesn't appear to be any gum detachment from the teeth. If there is, though, you may need to see a periodontist (a gum specialist) for further evaluation. It may be necessary in advanced cases to remove the braces to treat the underlying gum condition.
It pays to keep a close eye on your teeth and gums while wearing braces. Catching problems before they become too serious will help ensure your new smile is just as healthy as it is attractive.
If you would like more information on dental care while undergoing orthodontic treatment, please contact us or schedule an appointment for a consultation. You can also learn more about this topic by reading the Dear Doctor magazine article "Gum Swelling during Orthodontics."
By Bernard J Daly, DMD
September 02, 2017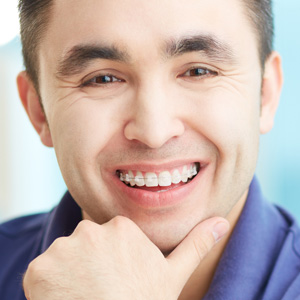 You've lived most of your life with crooked teeth and an imperfect smile. You feel you should have done something about it years ago, but now you're approaching your golden years — what would be the point?
Here's the point: there's a growing trend of older adults undergoing orthodontic treatment. People are discovering the life-changing benefits of straightening their teeth — even if they're no longer teenagers.
So, what's really holding you back?
I'm too old to have my teeth straightened. Not true — teeth can be straightened at any age, not just during childhood or adolescence. If anything would prevent orthodontic treatment it would be the state of your oral and general health, not your age. Your teeth's supporting bone must be reasonably sound and healthy; likewise, systemic problems like bleeding disorders, leukemia and uncontrolled diabetes can make orthodontics difficult. But if you and your mouth are reasonably healthy, you can have your teeth straightened.
It's too much to spend just to look better. Yes, orthodontic treatment can transform your smile — but it can also improve your oral health. Misaligned teeth are harder to keep clean, increasing the risks for tooth decay and periodontal (gum) disease; they also don't work well together so chewing is more difficult. By correcting your bite, you can reduce your chances of dental disease and improve overall mouth function.
I'd look silly at my age in braces. Self-consciousness about wearing these traditional appliances is common at any age. It's understandable — the glint of metal is the first thing people see when you smile. But there's a good chance you may be able to wear an alternative appliance that's barely noticeable: clear aligners. These are a series of removable, clear plastic trays that you wear in sequence to gradually move your teeth. Not only are they less noticeable than braces, you can take them out for special occasions.
Don't let these or other excuses keep you from a more attractive smile and healthy mouth. Visit your dentist for an examination to see if orthodontics can work for you.
If you would like more information on transforming your smile through orthodontics, please contact us or schedule an appointment for a consultation. You can also learn more about this topic by reading the Dear Doctor magazine article "Orthodontics for the Older Adult."