Posts for tag: tmj disorders
By Bernard J Daly, DMD
June 23, 2019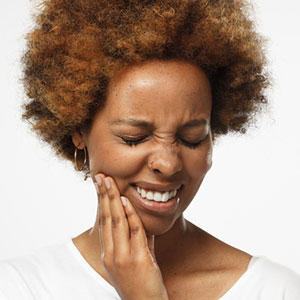 If you have chronic jaw pain, you may be one of an estimated 10 million Americans suffering from temporomandibular joint disorders (TMD). If so, it's quite possible you're also coping with other health conditions.
TMD is an umbrella term for disorders affecting the temporomandibular (jaw) joints, muscles and adjoining tissues. The most common symptoms are limited jaw function and severe pain. Determining the causes for these disorders can be difficult, but trauma, bite or dental problems, stress and teeth clenching habits seem to be the top factors. Women of childbearing age are most susceptible to these disorders.
In recent years we've also learned that many people with TMD also experience other conditions. In a recent survey of TMD patients, two-thirds reported having three or more other health conditions, the most frequent being fibromyalgia, chronic fatigue syndrome, rheumatoid arthritis or chronic headaches. Researchers are actively exploring if any systemic connections exist between TMD and these other conditions, and how these connections might affect treatment changes and advances for all of them including TMD.
In the meantime, there remain two basic approaches for treating TMD symptoms. The most aggressive and invasive approach is to surgically correct perceived defects in the jaw structure. Unfortunately, the results from this approach have been mixed in their effectiveness, with some patients even reporting worse symptoms afterward.
The more conservative approach is to treat TMD orthopedically, like other joint problems. These less invasive techniques include the use of moist heat or ice to reduce swelling, physical therapy and medication to relieve pain or reduce muscle spasming. Patients are also encouraged to adopt softer diets with foods that are easier to chew. And dentists can also provide custom-fitted bite guards to help ease the stress on the joints and muscles as well as reduce any teeth grinding habits.
As we learn more about TMD and its relationship to other health conditions, we hope to improve diagnosis and treatment. Until then, most dentists and physicians recommend TMD patients try the more conservative treatments first, and only consider surgery if this proves unsatisfactory. It may take some trial and error, but there are ways now to ease the discomfort of TMD.
If you would like more information on the causes and treatments of TMD, please contact us or schedule an appointment for a consultation. You can also learn more about this topic by reading the Dear Doctor magazine article "Chronic Jaw Pain and Associated Conditions."
By Bernard J Daly, DMD
September 16, 2018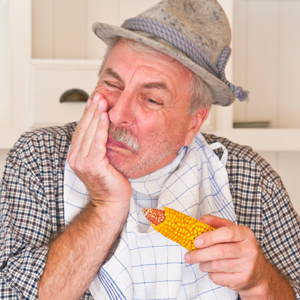 If you suffer from a temporomandibular ("jaw joint") pain disorder (TMD), you know any activity involving jaw movement can be uncomfortable. That includes eating.
But avoiding eating isn't an option—which means you may be attempting to minimize discomfort during flare-ups by choosing soft, processed foods that don't require a lot of jaw force. While this may certainly ease your TMD symptoms, you might also be cheating your health by eating foods not optimally nutritious.
It doesn't have to be a trade-off: with a few simple techniques you can still eat whole, natural foods while minimizing jaw joint pain. Here are 3 tips for making mealtime less stressful during TMD flare-ups.
Cut food into manageable bite sizes. Preparing your food beforehand will make a big difference in how much effort your jaws exert as you eat. Make sure all your food portions of vegetables, fruits or meats are cut or prepared into small, manageable bite sizes. It also helps to remove the tough outer skin of some fruits and vegetables or to mash other foods like potatoes or beans.
Use cooking liquids to soften food. For foods that aren't naturally moist, you can add liquids to soften them and make them easier to chew. Incorporate gravies, sauces or marinating liquids into your meal preparation to help soften tougher foods like poultry, meats or some vegetables.
Go easy with your chewing and biting motion. The strategy here is to minimize jaw movement and force as much as possible. While preparing your food as mentioned before will help a lot, how you bite and chew will also make a big difference. Limit your jaw opening to a comfortable degree, take small bites and chew slowly.
Managing a jaw joint disorder is an ongoing process. When practiced together with other treatments like therapy or medication, eating deliberately can help make life with TMD easier.
If you would like more information on coping with jaw joint disorder, please contact us or schedule an appointment for a consultation. You can also learn more about this topic by reading the Dear Doctor magazine article "What to Eat When TMJ Pain Flares Up."
By Bernard J Daly, DMD
September 28, 2016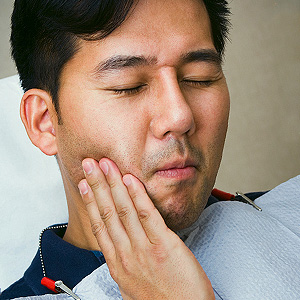 Chronic jaw pain can make eating, speaking or even smiling difficult. What's more, finding the right treatment approach can be just as difficult.
This is because TMD (Temporomandibular Disorder: named for the joints on either side of the lower jaw) actually describes a wide range of possible problems with the joints and connecting muscles. Any of them can result in impaired jaw function, radiating pain or even headaches.
We'll need to conduct a full dental and facial exam to accurately diagnose your jaw pain's cause. Even then, the way may still not be clear: there's considerable debate among dentists about the best treatment approach. Two basic schools of thought prevail, one conservative and non-invasive and the other more aggressive and interventional.
The conservative approach seeks to alleviate symptoms in a variety of ways, including recommending softer foods to give muscles and joints time to relax, applying cold and heat to ease soreness, massage of the jaw joint muscles, gentle stretching and jaw exercises. We may also prescribe medications like ibuprofen and other non-steroidal anti-inflammatory drugs for pain and swelling relief, and sometimes muscle relaxers to reduce spasms. If your pain stems from clenching or grinding habits, we could fit you with a custom bite guard you wear while you sleep to reduce the forces on your teeth.
The more aggressive approach is much more invasive. These methods include altering the bite or teeth position with orthodontics or dental work or surgically altering the joints themselves or the shape of the jaw. If you're recommended one of these more aggressive treatments, you should know they're not commonly used to treat TMD and they're irreversible. There's also no guarantee you'll gain relief from your symptoms, so by all means get a second opinion before undergoing any procedures.
For most people the best course of treatment is to start with the least invasive techniques, which are usually very successful. If they don't relieve your pain and limited function, we may then consider escalating treatment to more irreversible procedures to help you find relief from this unwelcome condition.
If you would like more information on jaw joint pain and how to treat it, please contact us or schedule an appointment for a consultation. You can also learn more about this topic by reading the Dear Doctor magazine article "Seeking Relief from TMD."